Home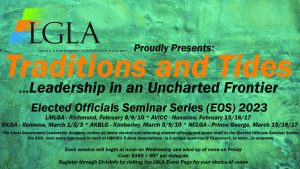 Thank you to the 630 delegates, 70 speakers and panel members, and the crew of amazing sponsors and partner organizations, who participated in, performed at, and exhibited in the 2023 Elected Officials Seminar Series! 
The EOS wrapped up on Friday, March 17th at the Coast Hotel in Prince George. LGLA could not be happier with the warm, enthusiastic reception of the three-day seminars we delivered in the five Area Associations.  
The legacy material from this epic road trip is available in the "past events" section of our website.
Please mark your calendars for the 2024 LGLA Forum in Richmond, which will be held at the Radisson Vancouver Airport Hotel, January 31-February 2.
Delegates who completed the EOS series are eligible for 15 credit hour towards their Level I, Level II, or Level III Certifications. Please take a look at your Leadership Certification Program requirements and steps to obtain certification here.
LGLA is grateful for the ongoing support of the following sponsors and partner agencies: