Home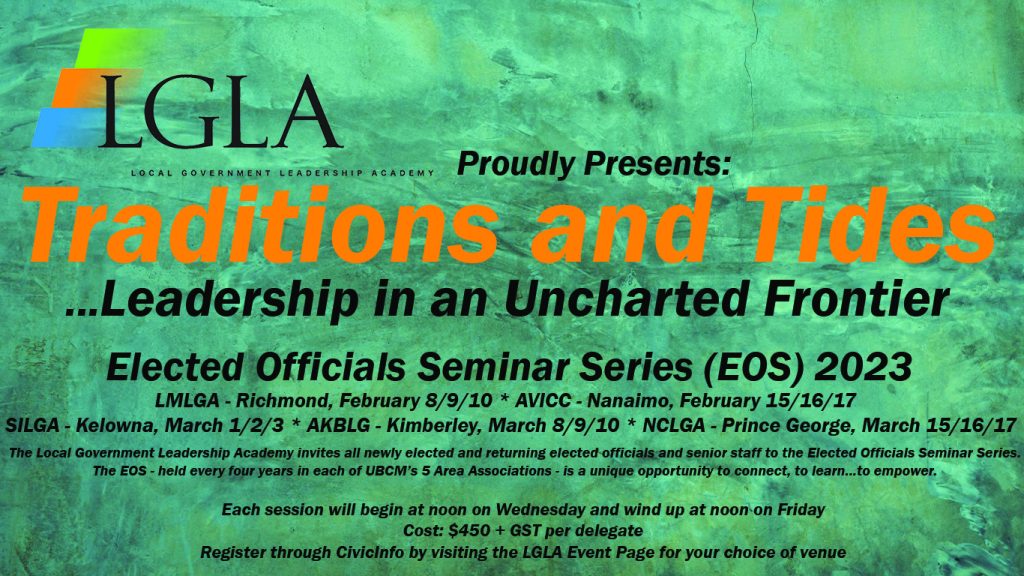 Registration is on for the 2023 EOS (Elected Officials Seminars).
The Local Government Leadership Academy is once again hosting the 2023 Elected Officials Seminars.  The EOS is 

held every four years, 

following the BC local government elections. These seminars are designed for both newly elected and returning elected officials, as well as senior staff.
Sessions are held over a three day period in each of the five Area Associations, however delegates are encouraged to attend the venue of their choice, as the program over the three days will be very similar if not completely identical.
Each session in a given venue, will begin at Noon on Wednesday, and  wind up at Noon on Friday.  
Click to download the program At Glance for your EOS session at the following venues:
Cost is $450 + GST per delegate. Registration is on now through CivicInfo.
Please click on the session of your choice to access the registration portal.
To book accommodations at your preferred venue, please visit the events page and click on the Area Association of your choice to access hotel information.
LGLA is grateful for the ongoing support of the following sponsors and partner agencies: