Home
The annual LGLA Leadership Forum will be held at the Radisson Vancouver Airport Hotel in Richmond, from Wednesday noon to Friday noon, January 31, February 1&2, 2024.
The event traditionally follows on the heels of the UBCM-organized EA Directors' Forum which will be held at the same location January 30/31, 2024.
Registration is now open for the LGLA Leadership Forum through CivicInfo! Cost is $495 plus GST. Registration includes Networking reception, two breakfast, a lunch and several refreshment breaks.We look forward to seeing you in person in Richmond for leadership, for learning, for networking!
Leadership Certification Recipients Honoured by Minister at UBCM Convention,
Delegate Lunch Celebration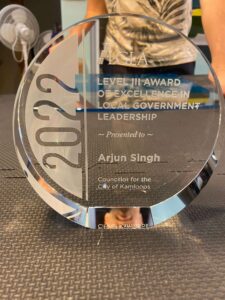 The Local Government Leadership Academy's Leadership Certification Program has ongoing intakes, applications for Level I, Level II and Level III Certification.
A major component of certification is the annual LGLA Forum, or in the spring after the elections, the EOS provincial series. Delegates who take part in these events obtain 15 credit hours towards certification.
The Annual Vision Guide is a handy tool that visually outlines what opportunities delegates have to procure credit hours towards certification.
Please find more information on the Certification Programs Page!
Check out this handy resource guide for elected officials in bc:
"Excellence in Local Government: Organizations Supporting Vibrant Communities in British Columbia" 
This guide provides a concise overview of organizations that support your work in local government.
Click on image to access and download the document.
Find LGLA on page 23!
LGLA is grateful for the ongoing support of the following sponsors and partner agencies:
Local Government Delegates attending their Area Associations' Spring Conferences are eligible to receive 4 credit hours towards their Leadership Certification! ...